Your Design.
With more than 10 years at the pinnacle of moving floor designs, we take pride in making unique moving trailers for the bespoke needs of our customers.
As a foundation, we offer a range of the world's leading floor systems: Cargo Floor™, Keith Walking Floor™, and Hallco Live floor™.
We can create distinctive body structures using /steel or aluminium, with extensive use of new materials and techniques to increase tare weight while retaining strength and durability.
Moving floor trailers
| | |
| --- | --- |
| Technical Specifications | |
| Capacity: | 70m3 - 113m3 (90 Cu Yd - 148 Cu Yd) |
| External length: | 11000mm - 15650mm |
| Overall width: | 2500mm - 2550mm |
| Internal width: | 2380mm - 2470mm |
| | from 7460kg + / - 3% |
Popular configurations:
Bio Mass Specification

1) Up to 114 Cu Yd (100m3) Capacity.
2) Roll-Over Cover Sheet Barn Doors
3) Internal Moving Bulkhead
4) 7440 Kgs Tare weight*

Recycling Specification

1) Up to 130 Cu Yd (100m3) Capacity.
2) Internal Bulkhead
3) Choice of Floor Systems
4) 8500Kgs Tare Weight*

Heavy Duty Waste

1) Up to 130 Cu Yd (100m3) capacity
2) 19mm High Impact to V9 Steel or Alloy.
3) Additional Wear Plates for Ultra-Robust construction
2) Durable Hydraulic or Barn doors
3) Nets or Roll-over cover
4) Choice of Floor systems
6) 9800Kgs Tare weight*
*Please note all tare weights are spec dependent.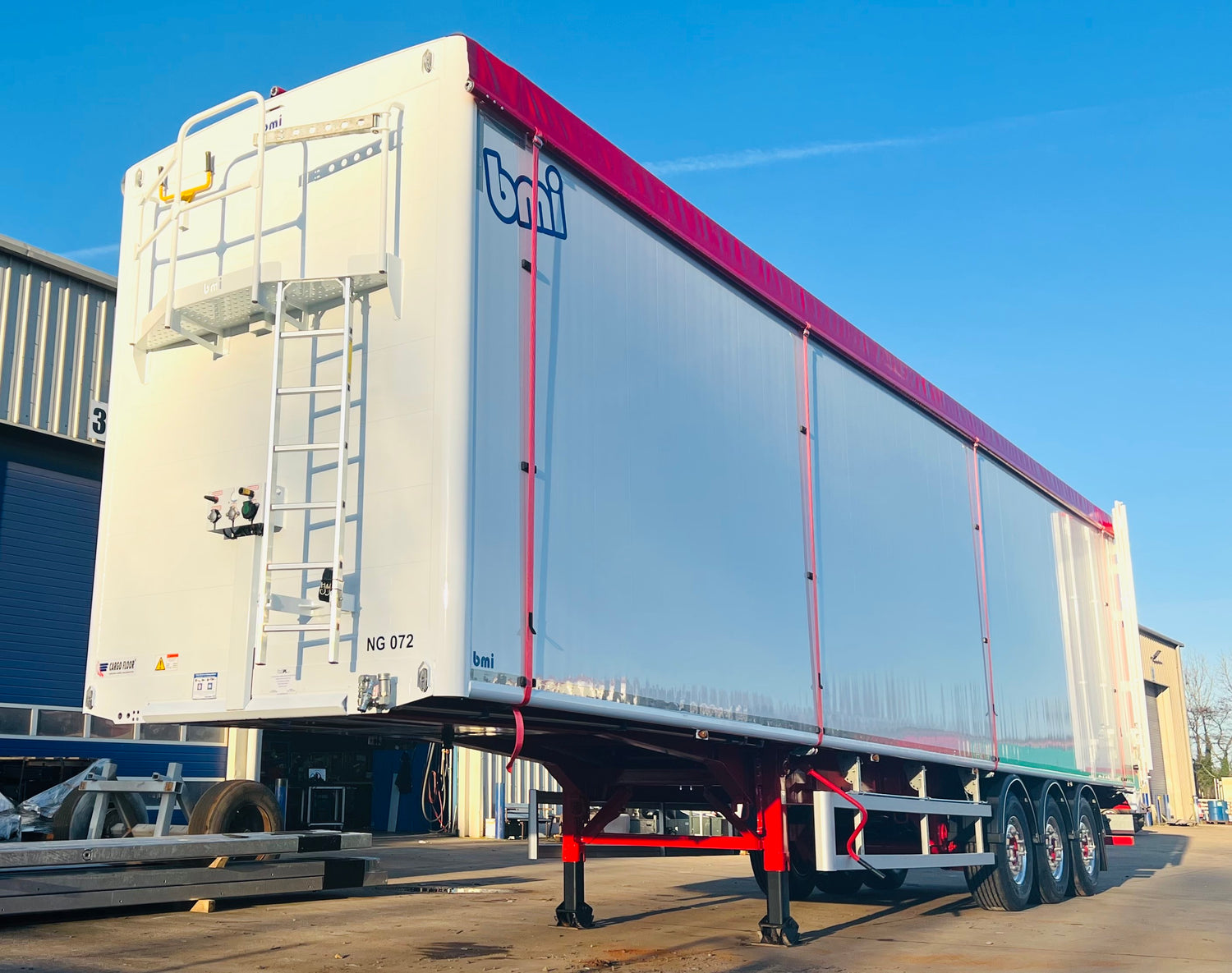 Standard Equipment:
1) Designed with durability and payload in mind
2) Cargo Floor™, Keith Walking Floor™, and Hallco Live floor™ systems available
3) Protected rear lights
4) Low centre of gravity for better safety
5) Chassis and wheelbase optimised for better stability
6) T-EBS braking system
7) Side mounted cover with central support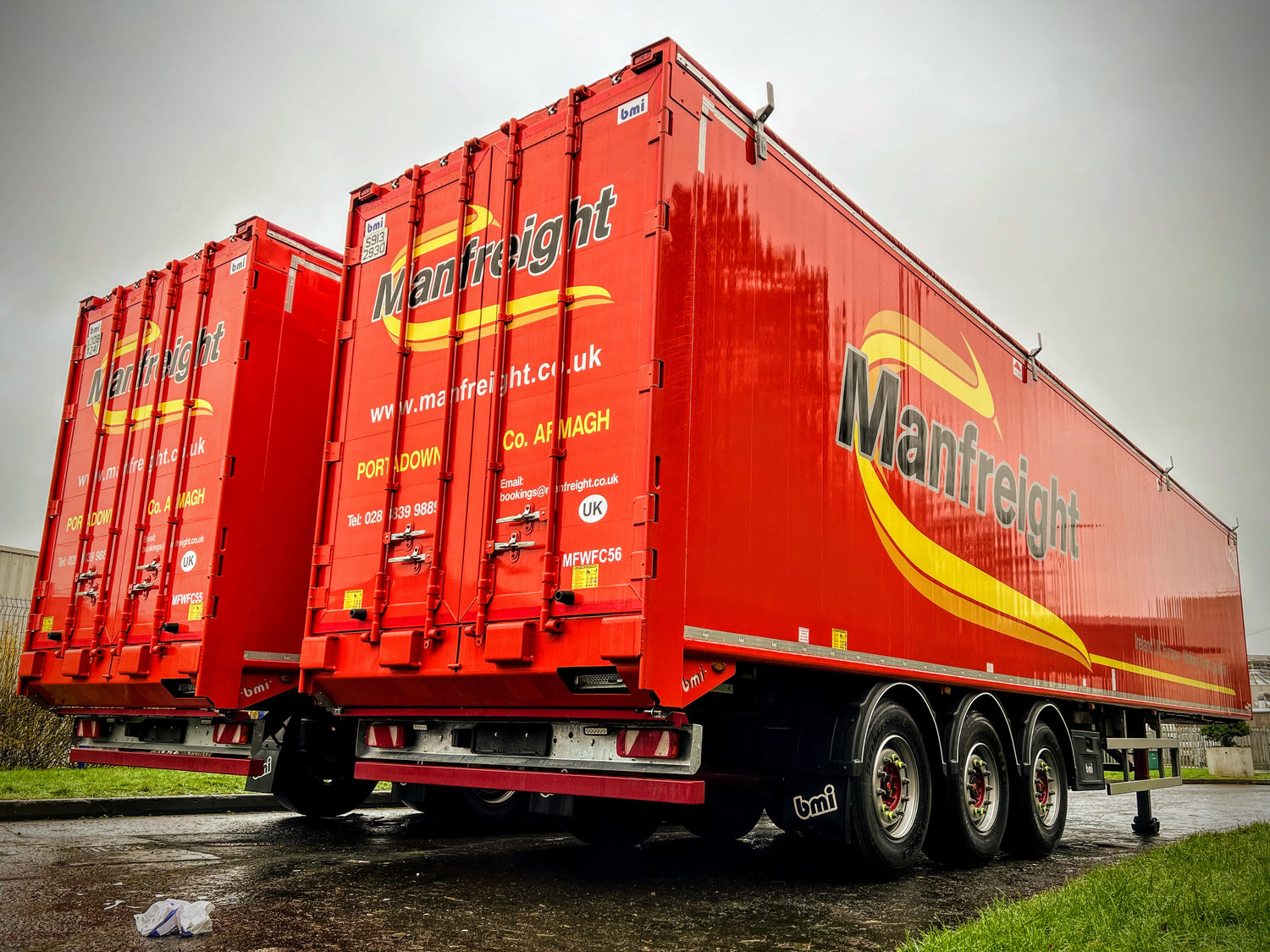 Additonal Options:
1) Sliding roof trap door
2) Hydraulic rear door
3) Protected rear lights
4) Internal wear plates
5) Lift axle
6) Leakproof floor systems
7) Steel body
Prime uptime.
By choosing bmi, you'll have the added peace-of-mind afforded by priority access to our exclusive UK national service network.

No job is too small for our PitLane repair and servicing specialists. Enjoy hassle-free uptime so you can focus on what's important.
Order your trailer
Ready to speak with the experts?
Our sales team will be your guide through each step of your trailer's design and production.

Get in touch with your local regional sales manager via the interactive map below.